Something bothered Jenny.
Her mother asked, "what's wrong?"
Jenny replied, "I'm worried,
Due to the words of a Christmas song."
Her Mum she was surprised and asked

"Which one is making you frown?"
Jenny then said, "It's the one
About Santa Claus coming to town.
Well in the song it mentions a list
And it claims he checks it twice,
Well I am sorry but I do not believe
That two times will suffice.
I check my homework at least four times
Before I'm Certain of it
And that's not as important as Santa's list,
Which has to be right, every bit.
Every Child in the world's on it and
There are billions as far as I'm aware,
I would like to think Santa, over the list,
Took appropriate care.
The song then tells all the children
To be good for goodness sake.
Well if you're good you could be left out
Due to a silly clerical mistake."


 (c) Paul H Tubb 
The Bespectacled Badger from Ballsbridge


The bespectacled badger from Ballsbridge
Found it difficult to see.
The spectacles that gave him his name
Were totally and utterly
Useless, as they didn't serve
The purpose that they should.
Although when he put them on himself
The badger thought they would.
He found them whilst rummaging in the bins
Of the local cinema.
This may also give you an idea
Why they're as useless as they are.
They're not glasses for improving sight
They're for enhancing the effects
Of a movie, I believe they're commonly known
In the trade as 3-D specs.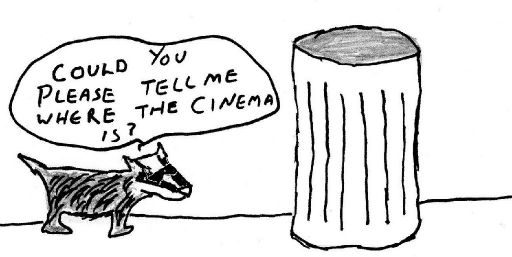 (c) Paul H Tubb